The Swiss Army knife you need to fuel your team's creative adventure is image generating AI Tools.
Visual marketing is hugely popular today, so depending solely on text-based content will not be sufficient to captivate your audience and increase organic traffic.
It's crucial to weigh your possibilities and locate an image-generating system that is suitable for your brand's size and requirements.
The followingTop 5 image creation tools for 2023 will help you streamline your workflow and create visually appealing content.
What are Image Generation AI Tools?
Teams can alter interactive images and assist in the creation of a variety of designs using image production tools.
These technologies can assist businesses in accelerating innovation and producing aesthetically appealing marketing materials by utilising sophisticated image processing features and automation.
You need attention-grabbing and personalised photographs to keep your audience interested whether you're posting on your e-commerce Instagram or Facebook page, or developing new material for your blog and product sites.
And this is where tools for creating images are useful.
1.Predis.ai
Predis is an AI marketing tool for social media helping businesses make captivating Video and Image content and get AI-powered content analysis.
Features : 
Activity Dashboard: Users can monitor their picture creation activity on Predis.ai's dashboard, including past and present projects, draughts, and published photos.
behaviour Tracking: Predis.ai is able to monitor and examine user behaviour to shed light on their practises, outcomes, and patterns in image production.
Automated Scheduling: Predis.ai enables users to set up the publication of photographs on social networking sites at a specific time and date, doing away with the necessity for manual posting.
Benchmarking: To assist users in optimising their photographs for greater engagement, Predis.ai compares image performance against industry standards, rivals, and prior performance.
Calendar Management: Users may plan and organise their image creation schedule on Predis.ai's calendar, which helps them stay on schedule and meet deadlines.
Competitor Monitoring: Predis.ai can track competitors' social media activity, including their picture content and engagement levels, giving consumers useful information they may use to enhance their own image creation techniques.
Content Library: Predis.ai offers a content library of pre-designed templates, stock photos, and graphics to assist users in quickly and simply producing professional-looking images.
Content Management: Users may organise and manage their image files with Predis.ai's content management functionality, making it simple to locate and reuse photographs for subsequent projects.
2. Abyssale
Abyssale's creative automation solution helps you auto-generate marketing and personalized images for social media, e-commerce, advertising and much more.
Features : 
Scalable designs.

No code automation.

HTML5 generation.

100+ free templates.

Multi-Format support.

Intelligent auto-resizing.

Industry leading editor
3. Celtra
Celtra is a creative automation platform that transforms digital advertising workflow and collaboration for brands, agencies and media owners. Designed for teams of any size and shape, Celtra allows you to automate production workflows so you can create content quickly and at scale.
Features : 
Central content repository.

Adobe Photoshop integration.

Code-free design of unique templates.

Auto-sizing and auto-layouting settings.

Custom font uploading for unlimited use.

Out-of-the-box library of Google and Monotype fonts.

Content-aware components for edge-case management.
4. Bannerflow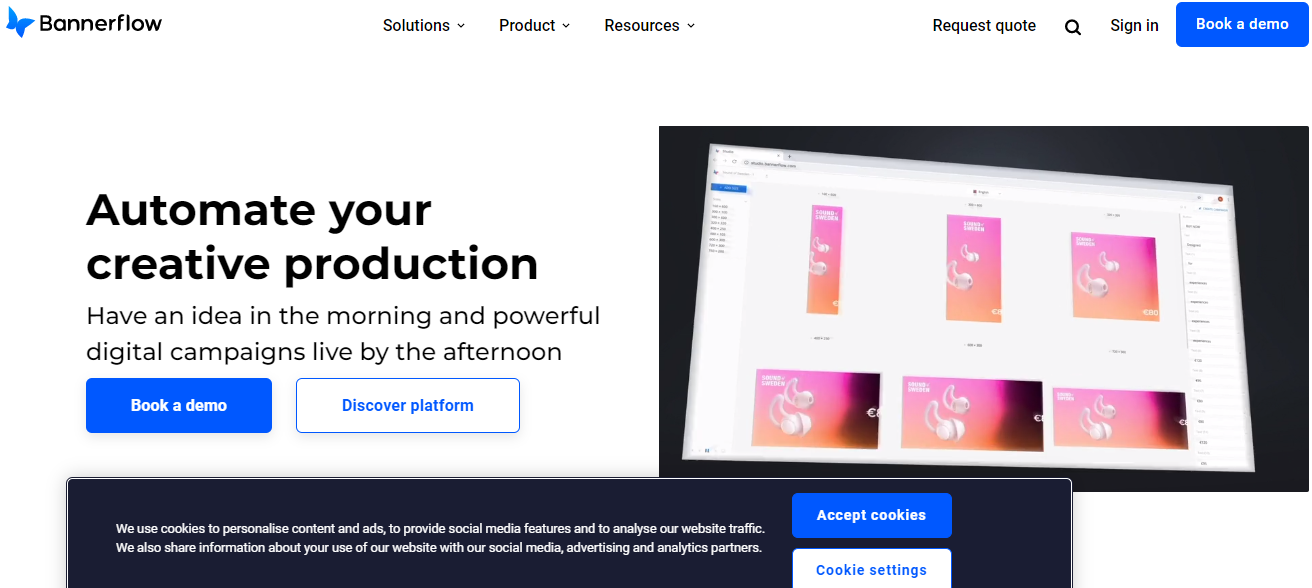 A Creative Management Platform (CMP) called Bannerflow gives internal marketing teams the power to manage their digital advertising. Designers and marketers can minimise time to market by up to 90% using our cutting-edge platform.
Features : 
Custom widgets & unique design elements.

Advanced HTML5 animation.

AI-powered smart scaling.

Drag and drop code-free.

Creative optimization.

Cloud collaboration.

Simple duplication.
5. Desygner
Desygner, which provides a variety of tools to generate or design images for your commercial or personal projects, is your go-to choice for creating visual material. You can choose a professionally designed template, start with a blank template, or specify your own proportions.
Artwork management.

Asset categorization.

Asset library.

Custom fonts.

Social Media Scheduler (iOS & Android)

Version history and rollback.
Conclusion : 
We may anticipate the emergence of progressively more advanced technologies as the field of AI picture production develops. Among other industries, these tools have the power to revolutionise the fashion, design, and marketing sectors.
The top 5 AI picture production tools mentioned in this blog post are just the beginning of what AI technology has to offer, to put it simply. We may anticipate new possibilities and opportunities for both enterprises and individuals as AI image generating techniques continue to advance.
Learn More :
To enhance your knowledge  consider attending our Growth Hacking Sessions. Register for the webinar now by clicking on the link below.
https://premiumlearnings.com/contact/
You can also download premium learning's app from the link below
https://play.google.com/store/apps/details?id=com.premiumlearnings.learn&hl=en