This blog is all about content writing – what it is and the different types of content you can write to have a real impact on your readers.
I won't take up too much of your time, so let's get right into it. attention spans are short and everyone is always in a hurry, so I'll get straight to the point.
Content writing is the creation of digital material that serves a purpose for your business and audience. This could be in the form of blog articles, website text, or even social media posts. but no matter the channel, all content should be valuable, relevant and engaging to your target market. 
This process is a key part of inbound marketing, as it allows businesses to connect with their customers at every stage of their buyer's journey. By mapping out this journey and understanding what kind of content is suited for each stage, businesses can more effectively interact and guide their audience towards becoming paying customers.
In order to create content that is valuable to your customers, you must first identify who your buyer personas are, what problems they want to solve, and how you can help them achieve that through your product or service. Your content can come in many forms, such as blog posts, e-books, whitepapers, or infographics. The type of content you produce will depend on the requirements of the project, your skillset, and your role as a content writer.
Types of Content writing
Blog writing–
Blog writing is a great way for aspiring content writers to get started in the world of content writing. It can be less intimidating than other forms of content writing, and you can begin creating content without pitching clients or having much experience. Anyone can start a blog and begin writing posts – that's the beauty of it! Bloggers are like digital diarists, they write about a wide range of topics from their personal lives to helpful guides and product reviews..
If you like to think deeply about the topics you're passionate about and enjoy sharing your perspectives with others, then blogging might be a great type of content writing for you. Blog posts are typically focused on a certain topic or theme, and they provide a platform for people to share their thoughts and ideas while also inviting others to comment.
People use blogs for lots of different reasons – from sharing personal experiences to writing about their interests or hobbies, giving tutorials, answering questions, or providing advice. Whatever your purpose is, if you enjoy writing and connecting with others, blogging could be a great outlet for you.
Ghost writing–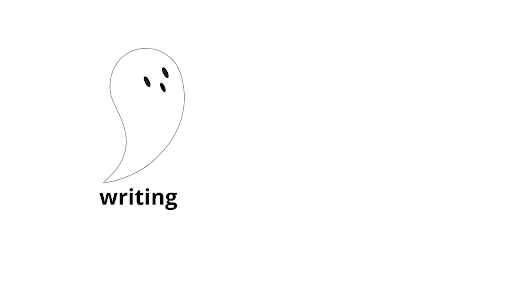 You are an expert in a certain topic and you want to share your knowledge with the world, but you don't want to write all the content yourself. You have a great idea for a book, but you don't have the time or energy to write it yourself. You are also struggling to get your website up and running because you don't have any content for it yet. And on top of that, you have many clients who expect you to provide writing services for them, but there is not enough time in the day. What do you do when you have so much that you want to achieve but not enough time to do it all?
When it comes to content creation, ghostwriting may be the solution you're looking for. Ghostwriters are hired to write content on behalf of someone else, and they often don't receive any credit for their work. This type of arrangement is often used when business owners or CEOs want to write a book or article for a leading publication – the ghostwriter creates the content and the owner claims it as their own.
Ghostwriters can also be hired to write blog posts, articles, e-books, and scripts. If you need help creating content but don't want to do it yourself, hiring a ghostwriter may be the right choice for you.
Content writing is a very versatile form of writing. It can be used to describe a variety of different topics, products, and services. While our blog has covered a few of these, there are many more that you could use to improve your writing. We're so excited that this post was able to provide useful information on such an important topic! Thank you for taking the time to read it.!
If you would like to read more in depth about any of the topics we've covered then,
Keep Learning :
To enhance your knowledge  consider attending our Growth Hacking Sessions. Register for the webinar now by clicking on the link below.
https://premiumlearnings.com/contact/
You can also download premium learning's app from the link below
https://play.google.com/store/apps/details?id=com.premiumlearnings.learn&hl=en